Who should produce prints of digital art?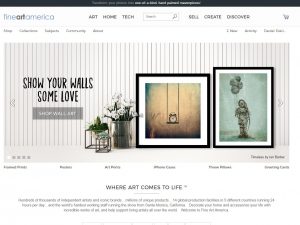 Being a digital artist who uses FineArtAmerica (now called Pixels.com) I'm a bit biased, I prefer to use them…but I have tried getting my art printed from a few different places including Costco, Walmart, RedBubble, Staples, Snapfish, Zazzle, and Shutterfly.
For the most part, print quality is all the same between them, generally above average and perfectly acceptable to everyone who has ever bought a print from me.   In fact, the word is that all of those print on demand sites actually use the same clearing houses to produce prints.
The only one of lesser quality was Walmart which was not THAT bad, but a little below what I would consider acceptable for a sale – though perfectly okay for my own personal prints.   However, because they print on site at the store they are fast and less expensive.
If you want exceptional quality, then you need to look up your local professional giclee print house.  They are generally quite expensive and you'll have to go on word of mouth to know if they are any good.
I also owned my own Epson Stylus Pro 7600 for a time to print my own stuff.  I would not recommend going that route.  It was VERY expensive and very difficult to get quality prints.