How do you frame an oil painting on canvas?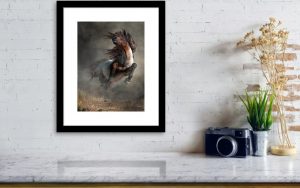 In addition to being an artist, I worked my way through college in a frame shop.
My first suggestion would be to hire a professional framer to do it.  Framing can actually be quite difficult, but, if you're the do-it-yourself type:
First off, your painting needs to be stretched.  Most likely it already is as canvases sold in art supply stores are sold prestretched on a wooden frame, but if it is not, I suggest you take your painting to a frame shop where you can have a professional do it.  Stretching a painting is actually somewhat difficult and does require some practice and know-how.
Assuming you've gotten to the point of having the painting stretched, you need to find or build a frame that fits the dimensions of your painting.  This is where oil paintings on canvas have a disadvantage over something like a photographic print or a painting on paper.  You cannot use mats to alter the side ratios or increase the size of the work up to a larger frame.  You have to have a frame that exactly fits your painting.
You can build a frame by ordering the frame moulding from any number of vendors then assembling with corner fasteners (usually provided by the vendor along with the moulding), or, if you are handy with carpentry, making your own with wood and house moulding from the local hardware store.
Oil paintings are generally not framed under glass.
It's better to have frame that is deeper than the depth of the canvas's stretcher bars, but it is not strictly necessary so long as the frame is wide enough so that no one will see the sides of the canvas from any reasonable viewing angel.
To mount the painting in the frame you can use metal canvas clips (even if the frame depth is less than the canvas depth), or, if the frame IS deeper than the canvas, you can use nails, brads, or staples partially sunk in the inside of the frame to hold the painting in.
Use two screw eyes 1/3 of the way from the top on the back of the frame as anchor points for the hanging wire.
Hanging wire is a braided metal wire that you can buy from just about any hardware store or big-box store.  Be sure to get something that is rated with a weight strong enough for your painting.
Run the hanging wire through the screw eyes, then cut it leaving several inches on each side.  You might want to wrap a bit of tape around the ends of the wire to prevent cuts. Bend the ends of the wire around the screw eyes then wrap them around the rest of the wire (the part between the screw eyes).
Now, find a good spot to hang it 😀