Photoshop, a product description
Photoshop
is the single most powerful and most used computer application in the world for art and photography. Most people who have spent any time doing digital art or photography have used it. However, as you may be new to digital art, I'm going to introduce it as if you've never heard of it.
Photoshop
is a digital image manipulation program, that is, it's an image editor. You can do all sorts of things to an image as a whole with it, such as adjusting brightness, contrast, etc.; moreover, you can use it to apply various filters to image, for instance, giving an image a sepia tone. You can also edit parts of the image, such as painting on it with virtual brushes. In fact, you can create an entire digital painting with it. And, it works particularly well with tablets and styluses (I personally use it with a Wacom Bamboo).
Until I got into 3D rendering, Photoshop was all I needed for doing digital art. For several years, I needed nothing else. There is so much that you can do with Photoshop. There are so many books on how to use it that they could fill a library, classes you can take, and thousands upon thousands of Youtube videos on how to use it.
How to get it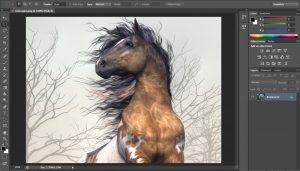 For a long time, Photoshop was a rather expensive application that you had to buy at a place like Best Buy off the shelf. Later on, you could buy it online and download it, but even then, it cost hundreds of dollars. Now however, Adobe (the company that produces Photoshop) has made it available through a subscription model. That makes it way more comfortable to try out. As I write this, you can get a monthly subscription as low as 10 bucks a month.
It's something you might want to check out…
Watch Me Get Photoshop
I recorded myself actually getting the latest version of Photoshop. So if you want a video walk through of how to get it, here you go: