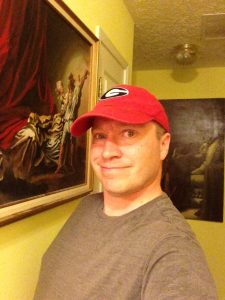 Welcome to my website!
My name is Daniel Eskridge, and I'm an artist…at least I am some of the time.  I have a day job as a software engineer.  But in my spare time, I create art.
I grew up in north Georgia in the metro Atlanta area, and I live there now, north of the city a bit.  I'm in my fifties, married, and have three kids.
I'm a classically trained artist in such formats as drawing, painting, sculpture and photography and have degrees in both art and computer science from the University of Georgia (Go Dawgs!).
For many years, I primarily did oil and acrylic paintings.  However, being a software engineer by day,  I've always been around computers and have was experimenting with digital as far back as the mid 1980's.  When my youngest son was born though, I decided to get the hazardous chemicals out of the house (which included all my oil paints), and I went all digital for many years.  Lately, though, I've been returning to traditional materials and have been creating original oil pastel works.
I first started to like art when I was a kid.  I read lots of science fiction and fantasy novels and was always fascinated by the cover illustrations.  I first learned to make art by copying such artists as Larry Elmore, Keith Parkinson, Michael Whelan, Boris Vallejo and Frank Frazetta.
Naturally, my first genre of choice was fantasy, but over the years, I've branched into the paleoart, wildlife, cryptozoology, horror, and Western genres.  I've also produced several non-genre realist works.
I spend a great deal of time outdoors, so nature and organic forms play a large role in my art.  Particularly the place where I grew up (and still live), northern Georgia and the foothills of the southern Appalachians, inspires a lot of my work.
Sometime around 2010, I discovered something called print-on-demand websites.  These are websites that allow artists to sell their works directly to customers in the form of custom-specified, on-demand, ink jet prints.  I tried uploading a few of my works to various sites and found that they sold!
Not only did my art start to sell, but I also started getting illustration contracts and setting up licensing agreements.  A lot of my work is also available on stock image sites.
Nowadays, I don't have much time for contract work with a rather intense day job and a children in the house, but  I do take the occasional commission if it fits.  Plus, I still manage to create at least one new artwork per week — and if you want to hear about all of my latest works as well a see some of my favorites, subscribe to my email list.