Have you made any sales of your artworks through social networking sites like Facebook, twitter, pinterest, instagram?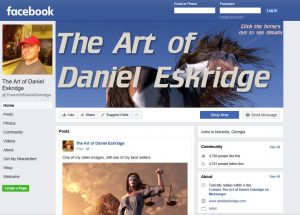 This is a question I've gotten a couple of times.
Yes, I've made numerous sales through Facebook.  To do so though, I have a fan page that I use to market my art.  I would not recommend using a personal FB page to do your art business.
I've spent several years building a following on Facebook, and it has required lots of time and some money for advertising.
If you want to learn more on selling art through Facebook, check out my quick start guide to selling art online.
I've made a couple of sales through DeviantArt as well, but that site tends to be more social rather than commercial when it comes to art.
As for Twitter, I have a couple of thousand followers.  Whenever I post art there for sale, I usually only get one or two click through's to my website, and, if any of those pitiful few have ever converted to a sale, I didn't catch it.