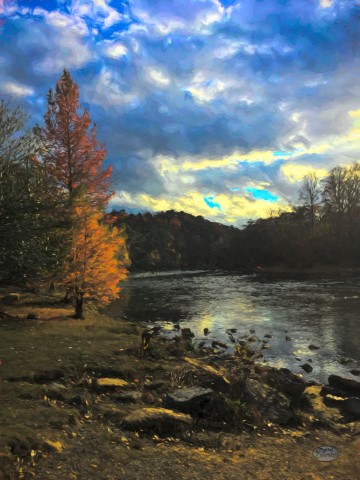 The Chattahoochee river winds through autumn colored trees in this impressionist styled art.
This is from a photograph that I took in November of 2017 just south of the Morgan Falls dam on the Chattahoochee river. This is a popular fishing spot in the north Metro Atlanta area as well as the location of a rather new Park. To the north of this area is Bull Sluice lake which is created by the dam.
I took the photo at evening just a few minutes before sunset when the sunlight was reflecting off the bottom of the clouds. There were a number of fisherman around me, but I managed to get an angle were they weren't in the frame.
I heavily post processed the photo using Topaz Studio with particular use of the Impression plugin to give it the Monet -like impressionist painting look. If you want to know what Topaz Impression is, check out my overview of it on my blog:
http://fineartbydaniel.com/2017/12/22/topaz-impression/
Thanks for looking!
Daniel
As always I have prints and gifts featuring this image available.