My quick overview of Topaz Glow…
A hammerhead shark swims beneath the sea in this impressionist work featuring fluid glowing lines with an almost neon quality to them.
This was actually made from an older image of mine that was a realistic image of a hammerhead shark, created using digital 3D rendering techniques. I've altered it though using a tool called Glow From Topaz labs. It's a really cool computer program that gives your images a wild expressionist look ranging from a style reminiscent of Vincent Van Gogh to modernist neon impressionism.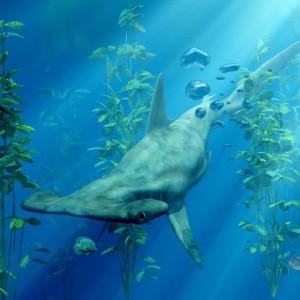 I'd seen a lot of photographers making sales with their photos that had been run through Topaz Glow. They looked awesome and I knew I wanted to give the application a try with some of my render art. It required me to update the drivers on my graphics card, but once I did that, it was easy to install and very easy to use.
I found that it doesn't always make an image better, but for some it really had some great results. This particular image, I thought, turned out very well.
Glow used to be a standalone application, but now you get it as a plugin for Topaz's flagship application Topaz Studio. Studio is free and allows you to integrate most of their products. Glow will set you back around 70 bucks, but it's can pay for itself in just one print sale.
If you'd like to check out Topaz Glow, and I recommend that you do, click on the button.
By the way, that link is an affiliate link. If you click on it and should happen to buy glow within 30 days, I will get a small commission on the sale. It does not raise the price for you. For those of you who do buy, THANK YOU!
I've also done a video review of glow. This was the older version prior to being a plug in for Topaz Studio, but the latest version is quite similar in what is can do.
Regards,
Daniel